1.-Ecological solar house on Saint Helena Island (Montreal, Canada). It was designed by students from the Universidad de Montreal and the School of Higher Technology within the international Solar Decathlon competition framework.
2.-A bamboo home: Architects firm Karawitz Architecture designed a two-story bamboo house in Bessancourt, France. The construction, in addition to having bamboo as its main material, wood that is sustainable, has a roof covered with solar energy panels, which provide energy to the entire home.
3.-Sustainable school: In the summer of 2016, Tagma led the construction of the first sustainable school in Latin America in the town of Jaureguiberry, Canelones, Uruguay. Now they are a whole network of schools made with various techniques of bioconstruction and the use of natural resources.
4.-Earthship: Ecological Recycled Housing, developed by Michael Raynolds, is an idea of ecological housing, which does not depend on normal infrastructure, as it happens with a conventional house, in addition, they are buildings that do not charge taxes on the natural resources of the planet. The base is a completely self-sufficient energy construction, which does not consume non-renewable raw materials and uses waste materials from our society that are recycled. Furthermore, the idea is exportable: its design can be perfectly adapted to any part of the world, of course, as long as there are wheels, glass bottles, and beer cans.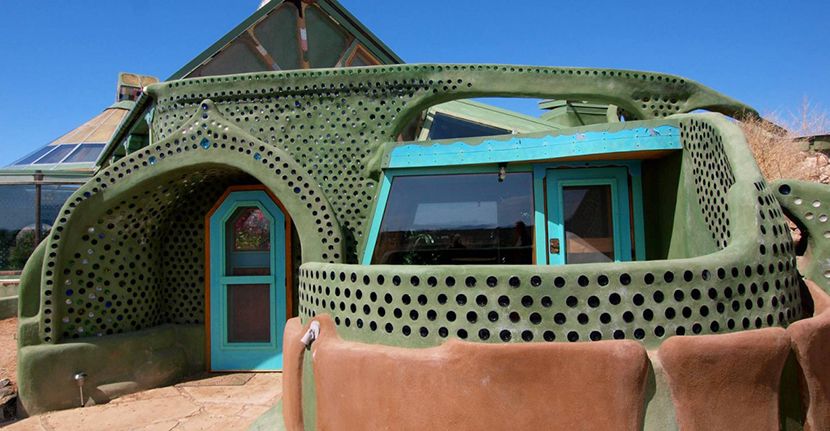 5.-Green Dream Tulum, in México: An ambitious project that did not leave an eco-sustainable subdivision where each building is made with bioconstruction, multi-use palapa of bioconstruction with bamboo, eco-sustainable superadobe pool with water treatment with salts, superadobe temazcal, superadobe and bamboo sales office, bahareque reception almond and Casa Olas of bioconstruction with bamboo covered with local soil, an example of how bio construction techniques can be used to construct buildings that integrate with the natural environment. It uses natural materials and sustainable construction techniques to minimize its environmental impact.