This September 13th our sustainable eco-development: Green Dream Tulum, will be officially delivered to the residents so they can start with the construction of houses and the use of the amenities.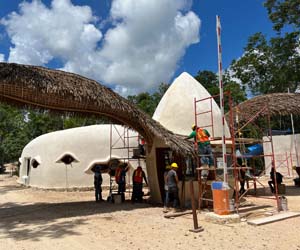 From the entrance, we can already see the security booth or ALMENDRA completely covered with synthetic palm, along with its wooden finishes and the access pens placed for 24-hour control of the development.
Behind it, we have the Serpiente, our reception and sales office to welcome everyone.
We cannot forget about the multipurpose palapa, that even though its process has been a challenge, it is one of the main attractions of the development and is in its last stage, where the synthetic palm will be placed on top of the stunning and beautiful bamboo structure.
The gorgeous deck made of recycled plastic and coffee husks gives the swimming pool, which is in total functioning, the elegant and ecological touch that distinguishes us.
The children's play area right next to the calisthenics exercisers is now available, as well as the barbecue area and picnic benches.
What we are most excited about is that we will be celebrating the delivery of the project by enjoying every area of the development with our residents, guest brokers, and anyone who wants to join us.
We will have activities for the whole family, vegan food, entertainment, music, an organic market, and all the information you want to know about the development. So, if you are interested, we invite you to enjoy with us this incredible day.